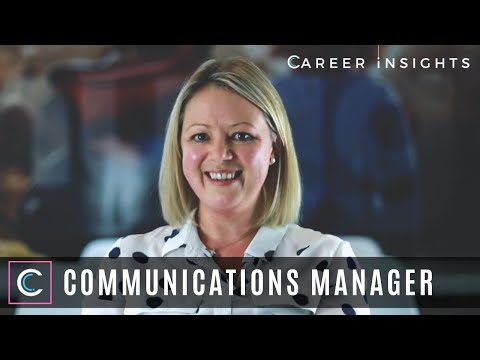 More info
Manage an organisation's external communications and reputation
You'll need excellent writing skills & confident communication and presentation skills
Progress to director level roles or become a freelancer
As a communications manager you'll normally work 'in-house' at an organisation (instead of in an agency) and your role will be to manage and deliver the organisation's communications with the outside world. This role is sometimes also referred to or similar to a PR manager (or public relations manager), but communications managers may have a broader role in communicating with a wide range of stakeholders or in developing the organisation's brand.
DAY-TO-DAY DUTIES
Understand the range of audiences and stakeholders the organisation has - like the public, clients, suppliers, the press, campaign groups and others
Develop a communications plan that engages with them appropriately
Develop key messages for each audience
Create specific communications materials to reach them or to respond to their issues
Write press releases, blogs, speeches, reports and documents,
You might also be responsible for the organisation's public-facing website or social media
DAY-TO-DAY ENVIRONMENT
You may need to be on call out of hours to manage communications during emergencies, and you may need to work evenings and weekends to cover events. Depending on your role you may also need to travel.
You'll need
For this role, you'll need knowledge of media production and communication, knowledge of English language, thoroughness and attention to detail, persistence and determination, the ability to work well with others, to accept criticism and work well under pressure, good initiative, and the ability to sell products and services.

You could study for a degree or postgraduate award recognised by the Chartered Institute of Public Relations, such as in public relations, media communications, or business and public relations.

It might be useful to do a relevant subject like a Foundation Certificate in Marketing, or you can also study higher level qualifications if you're working in a marketing or communications department.

You could get into this job through a public relations assistant or communications higher apprenticeship.

Paid or unpaid experience of working in public relations would be useful, which you can gain by contacting communications or PR departments and consultancies for work experience, volunteering to promote local charities, writing for student magazines, newspapers, blogs, or social media, or working on student or volunteer radio services.

Alternatively, you can do professional qualifications through the Chartered Institute of Public Relations, which can be done online or at a training centre. Courses include a Foundation Certificate for beginners, or a Professional PR Certificate, if you're a graduate or have 2 years' experience in PR.
CAREER PROSPECTS
You might start out as a communications or PR assistant, progress to and officer, then manager, and director.